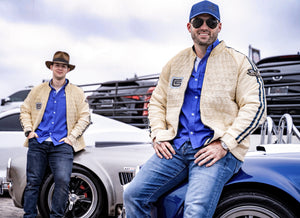 Racing Team Apparel
Team Shirts
Custom options
Hard Wearing
Bowler's
ABOUT BOWLERS SHIRT & UNIFORM:
Founded by professional bowler, Bill Von Henkle in 1945, Bowler's Shirt & Uniform was an originator of better designed garments for athletes. Comfort, flexibility, and breathability, was achieved through use of modern materials and improved custom designed garment patterns.

In the 1960s, Bill's son, Rick, brought Bowler's into a new age by matching their comfortable design with the hard-wearing needs of motorsport racing teams. Shelby American developed a close business relationship with Bowler's as the team's apparel supplier from 1964-1968. As a result, Bowlers also became the official clothing supplier to Ford and Shelby for Daytona, Sebring, LeMans 24 hour race, and for many other teams throughout the 1960s. 
Simultaneously, Bowler's developed a market for fire retardant Nomex flight suits manufactured for the aviation industry, as well as NASA, the US Navy, and the Blue Angels.
Today, Bowler's Shirt & Uniform continues through a partnership with the Von Henkel family and Luna Replicas. We strive to maintain the original tradition of style, durability, and comfortability for every adventure, fast or slow, and pay honor to the teams who wore our uniforms throughout history.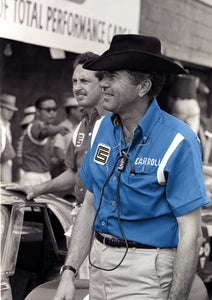 "My proudest moments are beating Ferrari for the World Championship in
1965, and working with Ford to win Le Mans in 1966 and 1967."

Carroll Shelby
Nobody can really guarantee the future. The best we can do is size up
the chances, calculate the risks involved, estimate our ability to deal
with them and then make our plans with confidence.

Henry Ford II
I've always been asked, 'What is my favorite car?' and I've always said 'The next one.'

Carroll Shelby
From the original Outfitters of Shelby American Inc. & Ford Racing Teams:
MADE IN USA
Proudly made just blocks away from the original Bowler's Shirt & Uniform Shop in Downtown Los Angeles.